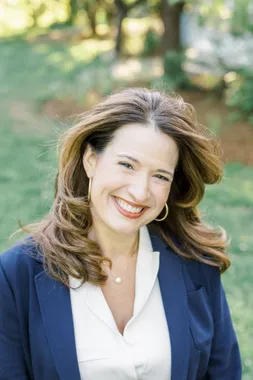 I am a licensed psychotherapist in Maryland providing services to individuals and families for 28 years, and the Director of The Smith Counseling Group since 2023. I specialize in the treatment of adolescents, families and adults who struggle with eating disorders, as well as depression, anxiety, divorce/relationship issues, health-related issues and trauma, both acute and developmental. In addition to these areas of practice, I provide assessments, consultations and clinical supervision.
My style is very interactive, warm and direct, with an emphasis on making sure the therapy is a good fit for you. I am not a sit-back and nod kind of therapist! It is my personal philosophy that every session should feel productive, with the immediate goal of experiencing relief from your symptoms or distress and the long term goal of personal growth and change.
While trained in Cognitive Behavioral Therapy (CBT) and Family Systems, I have continued to expand my knowledge and skills over the years. After earning a certificate in Trauma Informed Treatment 12 years ago, I expanded my skills to include hypnotherapy and mindfulness-based skills, as appropriate.
In my specialized individual work with adults who struggle with eating disorders, I utilize cognitive-behavioral therapy for eating disorders (CBT-E) to challenge destructive thinking patterns that lead to symptomatic behaviors. For adolescent clients living with their families, the family is considered an integral part of the treatment team. This is known as the "Maudsley" approach or family-based treatment (FBT) of Anorexia Nervosa. FBT is an evidence-based practice that is supported in the research literature as the optimal way to treat adolescents with eating disorders.
After COVID, I noticed such an increased demand for services, I decided to expand my practice and pull in a talented team of professionals who could help to address the growing mental health crisis in youth and adults. As an Eating Disorder Specialist, I was particularly concerned with the growing numbers of adolescents who struggle with life threatening eating disorders. Together with my trusted colleagues, I founded The Smith Counseling Group. We are a collective of professionals who are dedicated to providing evidence-based mental health care to individuals and their families. We pride ourselves on our recovery rates and will work tirelessly with you to achieve that goal.
Please visit our website at: www.thesmithcounselinggroup.com